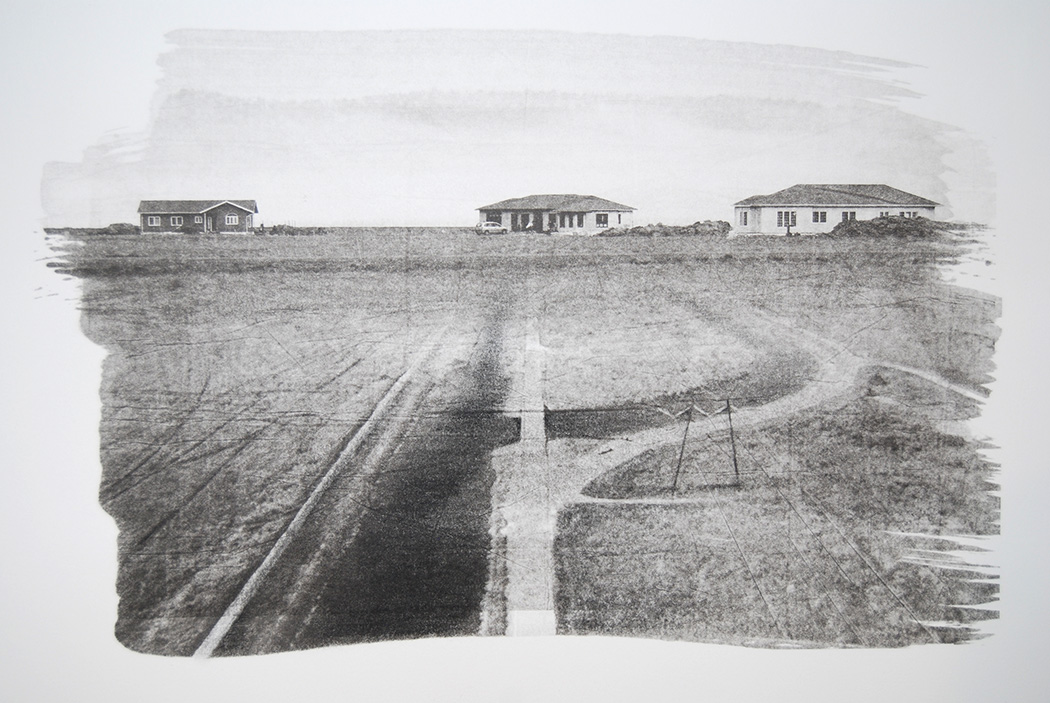 Transect, 2017
A collaborative artist's book created by geographer Lee Lines and Rachel Simmons for a group exhibition in Iceland in 2017.
Lines and Simmons began working together in 2010 through a student-faculty research trip to Iceland. They traveled there to experience firsthand how Iceland's investments in renewable energy are reshaping its physical and cultural landscapes. Since that time, Simmons and Lines have worked together on a body of work that relies on developing an interdisciplinary dialog between art and science, and striving for a common visual language around the relationship between scale and sustainability in the landscape.
Their most recent piece, Transect (2017), explores the relationship between landscape and memory, emphasizing the role of time and change in shaping one's memories of place. Photographs taken by Lines and Simmons on multiple trips across southern Iceland were reinterpreted through a process known as gel transfer, allowing certain landscape elements to recede while others remain intact. This transfer process, which is not entirely under the control of the artists, opens the possibility for unanticipated effects. After the images were transferred, they were scanned and the artists added text based on their field notes and memories of Iceland.
Lee Lines is a Professor of Environmental Studies at Rollins College in Winter Park, Florida. He earned his Ph.D. in Geography from Arizona State University in 1995. His teaching and research interests are focused primarily on physical geography, climate change, environmental design, and sustainable development. In recent years, he has taught field-based courses in Ecuador, Costa Rica, and the Pacific Northwest. He is currently working with Rachel Simmons on a public outreach art/science project focused on climate change impacts titled Visible Climate.
Image from "The Aesthetics of Scale" 2013
Images in "The Aesthetics of Scale" series began with photographs (taken by Lines on his travels through Iceland, Dominica, Switzerland and the US) which Simmons transferred onto Arches paper via an etching press. Then she added drawn elements using materials like graphite and charcoal to emphasize certain characteristics of the landscape.